If you're not hearing any sound when you're viewing the trading room, check the address bar to see if there's a small speaker icon with a red "X" on it to the right of the address. This indicates that Chrome is muting the audio from this site. It's a little tough to see, but here's an image of what it looks like:

When you see this, Chrome is muting sound on that site. To resolve it, click on the speaker icon that has a red X on it. It will bring up the following dialog, where you can select "Always allow sound …" as shown. This should resume sound, even though the red X may still be present.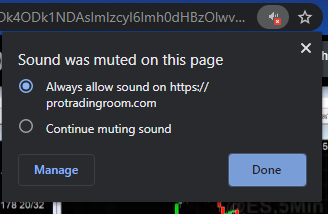 You can also click on the Manage button in the dialog's bottom left area, and that will bring you to the Chrome settings relating to Sound under Privacy and Security. Click on the Add button to the right, and assure that https://protradingroom.com/ is added to the "Allow" section via the dialog that pops up.
This should avoid this problem in the future, and hopefully the red X will go away. Note that Chrome changes itself quite often, so these instructions may not reflect the latest version, but it should be close to what's shown in future Chrome versions.