If you try to join the trading room and you get a blank or all-white web page with nothing within it instead of the room content, then you may need to try several different solutions to resolve it as there are quite a few potential causes for this issue.
An easy thing to try is to use a different browser. Chrome, Edge, Firefox are examples of browsers that can be used with the trading room. Although Edge is actually using the same "engine" as Chrome, so it may work similarly.
If you tried other browsers and it's still not working, or if you only want to use Chrome (or Edge), check whether you're allowing third-party cookies to be set. You can tell if this is the case by checking in the upper-right part of chrome, within the address bar. Look for an icon that looks like an eye. If it has a slash through the eye, then your cookies are likely being blocked for this site.

If you see this "blocked eye" icon, click on it. You'll see this popup: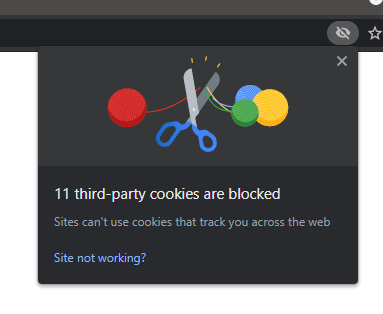 Click on the Site not working? link, and you'll see the option to Allow cookies.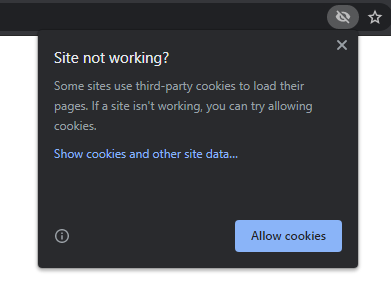 If you click on the circled letter "i" in the bottom left, you'll be provided with more info about cookies, similar to the following: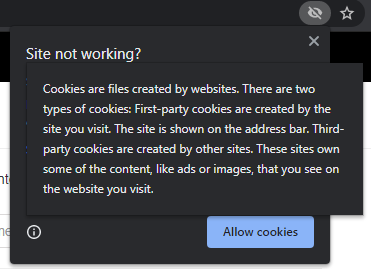 If you're ok with Allowing cookies, click Allow cookies and see if you now get access to the live trading room. You can find other cookie-related settings for your Chrome browser at chrome://settings/cookies
If that approach doesn't work, try adding https://protradingroom.com to Chrome's list of sites to allow. This is the source server of our trading rooms. More information on how to do this is listed in the examples, below.
If you try this and you're still unable to reach the live trading rooms, check if you're using a web page blocker intended to prevent malicious web sites from harming your computer. We've learned that some tools, such as Bit Defender, can prevent you from visiting certain pages on the web unless you specifically allow them. If you're using a tool like that, please find out how to permit protradingroom.com as an allowable site.
We've also found that some of our users' VPN connections can create some issues, so if you can try to connect without the VPN and it works, then there may be something you can do to accommodate the connection with the VPN. Perhaps check with your VPN provider for more information on that.


Example of Modifying Chrome Settings to the ProTradingRoom.com Website
The method for doing this seems to change quite often within the many updates that Chrome does, so please google "allowing sites in chrome" for details on how to add a site to get the latest approach, but it should be something similar to what's shown below.
In the image, you'll see that this user has enabled Block third-party cookies, which is likely the reason that you're seeing the blank screen when trying to enter the room. This is because the trading room software needs to set cookies. You can keep this block as enabled as long as you specifically allow protradingroom.com to set cookies. You do that by adding that web site name to the "Allow" list. This has been done below, by clicking on the Add button to the right of the Allow section, and entering protradingroom.com. Once that's been done, you should be able to launch the trading room.
Updated on January 12, 2021