Penny, our Virtual Support Assistant, is now available on some pages on our website, such as on the Support page. To get the best responses to your questions:
Ask one question at a time
Keep each question brief and as specific as possible
Ask each question independently (she doesn't remember the last question asked or answered)
and...
Signify a good response with a thumbs up (or bad with a thumbs down) to help her improve
Let her create a support ticket for you so our human team can respond when needed
Use your BCT email, the one you use to log into the Base Camp Trading website
Details on how using these suggestions can help:
Penny is a "bot," or a robotic assistant, trained on many different subjects relating to Base Camp Trading. There are some limitations to what she can accomplish, and understanding how to maximize her abilities can be helpful.
You may notice that Penny often has no exact answer to your question, but she'll usually try to get as close as possible to what you're looking for. Sometimes, this is right on target, other times it's unexpectedly off. Over time, Penny should improve at finding the right answers to your questions.
One thing that can help Penny is to ask only one question at a time. We've noticed that some users provide a list of questions all at once, and Penny is designed to give one answer at a time. If she sees many questions, she'll pick one. So, if you have many questions to ask, ask them one at a time to get the most targeted answer.
Penny doesn't remember what you asked in the last question, so it helps to include enough information in each question for her to answer. For example, if you ask, "Where can I find the 11-Hour Options course?" in one question, and follow that with "What's included in that course?", she won't know what you're referring to. So, ask each question as if it was the first question on the subject to get the best results. "What's included in the 11-Hour Options course?" would likely provide a better response than referring to "that course".
Penny will eventually be able to provide even more information, including information about the products you purchase. So make sure you use the email you use to access the Base Camp Trading website.
If Penny can't answer your question, she may suggest creating a regular support request "ticket" so your question gets a response from a human support agent. The human support agent will be able to see some of the history of your conversation with Penny and any extra helpful information you provide in the ticket creation steps. Here's an example of her offering to create a support request for you: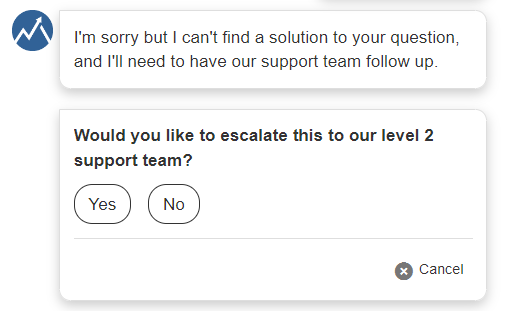 When Penny gives you a response, many times you'll be offered the option to create a ticket, which takes you to the same process. Even when Penny responds, you can still ask that a support ticket be created so a human support agent will get back to you. To do this, click the Contact me "thumbs-down" option in the response. The "thumbs-up" option lets us know that Penny gave you the right answer, which helps with her training.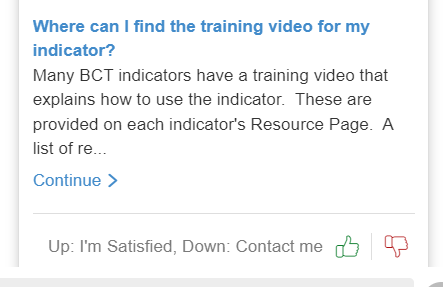 You'll know that a support ticket was created once Penny provides you with a ticket number, which you can click on to see the ticket status. Note that the support team handles many support tickets, and your ticket gets in line with others, so it may take a bit before our support agent reaches out to you.
And speaking of the thumbs up/down buttons - clicking on them can be very helpful in improving Penny's responses. When she gives the right answer, clicking the thumbs-up button reinforces her giving that response. Similarly, a thumbs-down to a wrong answer helps us know where to improve.
If you get stuck, such as when no offered answer to a question applies, type Cancel as a response and usually she'll start over from the beginning. And if Penny isn't providing you with the answer you need, then please contact support@basecamptrading.com with your support request.
Hopefully, these tips help you make the most of our virtual assistant. The goal is to provide you with immediate responses to commonly asked questions, and her responses should get even better over time.