IMPORTANT: Your Machine ID will change if you make a significant change to your computer, such as upgrading your operating system, updating your BIOS, or adding memory or removing a hard drive. Mac computer users may experience Machine ID changes when their emulator software (like Parallels) is updated. If this happens and your Machine ID changes, you'll need to register your new Machine IDs for each of your indicators. We can assist with the registration if you provide us with the Machine ID. It must be exactly correct, so rather than copying it by hand, we ask that you Copy and Paste it when providing it to us, usually via email or a support ticket submittal.
How to get your Machine ID (NT7 or NT8)
You can find your Machine ID in the NT Control Center's Help/About dialog, via the menus in the NinjaTrade application. The process is similar for NT7 and NT8. Here's a screen capture of where to find the About menu choice in NT8, under the Help menu (About is pointed to by the large red arrow). Click Help, then choose About to bring up the About dialog:

That brings up the About dialog, which appears as follows: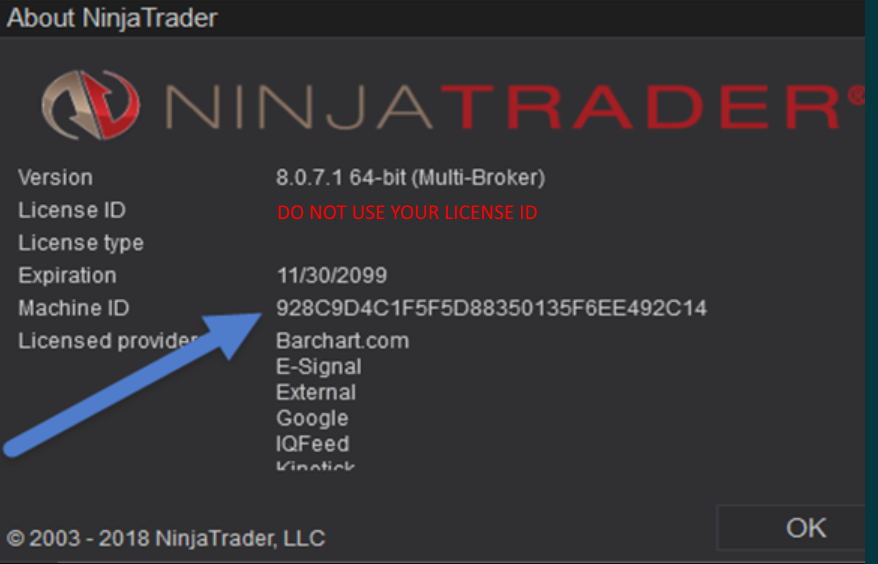 PLEASE DO NOT SEND A SCREEN CAPTURE OF YOUR MACHINE ID- It's too prone to error, and it's easy to copy the ID text into an email.
Locate the Machine ID among the provided information in the dialog box that you just brought up. It's pointed at by the large blue arrow in our above image. Note that the Machine ID is NOT the License ID. The Machine ID will have the words Machine ID to the left of it. Machine IDs do not contain anything but numbers and the letters A through F. There are no hyphens in the Machine ID (licenses have hyphens, but that's not what we need when we're asking for your Machine ID).


Next, select the Machine ID by double-clicking on it. This will highlight the entire Machine ID. Once it's highlighted, you can right-click on top of the highlighted Machine ID, and from the popup menu that appears, select Copy.

Alternately, you can use CTRL+C to Copy the selected Machine ID.


With the Machine ID now in your paste buffer, you can paste it into the emailed response back to Base Camp Trading.