If your NinjaTrader 7 or 8 machine ID got updated, and you're confident that you properly registered your new Machine ID on the Base Camp Trading website's Indicator page, there are a couple of things that might be creating the problem.*
If you see a message with "Vendor Notification" at the top, similar to what's shown here, then you are likely using an old version of the indicator. If you download the latest version, it should stop showing this message, and your indicator will work properly. For each indicator that shows you this type of error screen, make sure you're using the latest version of the indicator.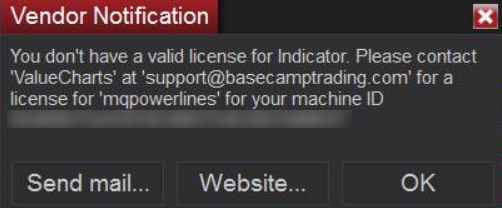 If you don't see a message like the one above when bringing up a chart with the indicator, then the authentication system may be having trouble properly registering your new Machine ID. In this case, contact support for assistance and we'll work with you to get it resolved.
* Note that if you haven't registered your new Machine ID for EACH of your indicators, then please register the new Machine ID for each of your indicators as if you were downloading the indicators for the first time. The video for NinjaTrader on the following page shows how:
https://basecamptrading.com/support/indicator-install-guides/