If you're unable to open up a Splasthop remote desktop connection, it might be because of either a firewall issue that's blocking the connection, or the connection itself is too slow.
If you use a Firewall program to protect your computer, such as McAfee or Norton, if you're comfortable, you can temporarily disable the firewall checking for a short period of time. You can then test if the connection works. Be sure to remember to turn your firewall back on after the connection is complete, and avoid visiting questionable websites, opening emails, etc. while you've temporarily disabled your firewall. A better solution is to whitelist the Splashtop servers so connections to the specific Splashtop servers are allowed through your firewall. That is beyond teh scope of this article, but here's a link with the details on what needs to be whitelisted:
https://support-splashtopbusiness.splashtop.com/hc/en-us/articles/115001811966-What-are-the-Firewall-Exceptions-and-IP-addresses-of-Splashtop-servers-Services-
If you'd like to check if your computer is able to access the Splashtop servers before your Base Camp Trading support person tries to connect with you, you can use the Splashtop connection checkup to confirm that you aren't having any connectivity issues. You can reach that website via the following link:
https://www.splashtop.com/check
Visit that page, and it will check the connections and list whether your computer is able to reach it. If you see a big green checkmark and "Success" as the Status for each of the rows in the table, as shown in the following image, then your computer is able to reach the Splashtop servers.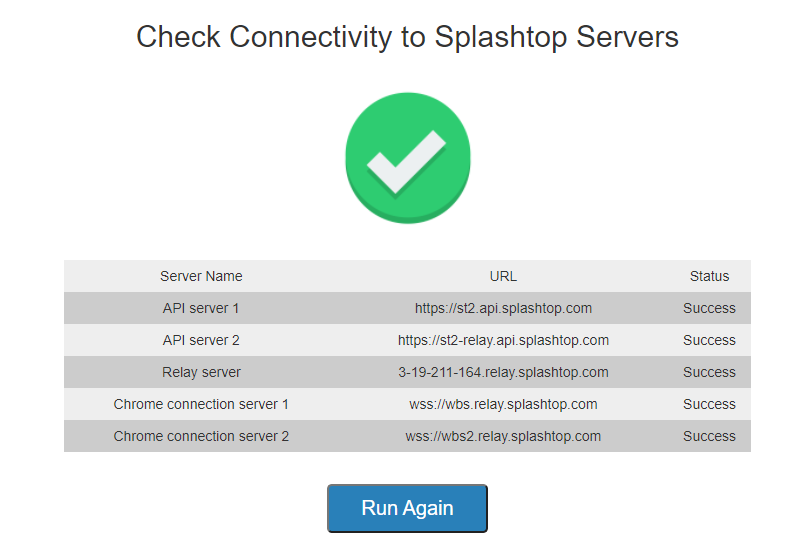 If you don't see a successful result, you can try temporarily disabling the firewall, or even better, performing the whitelisting adjustments mentioned above until you have success. Click the Run Again button on the website to rerun the test to see if your adjustments allow connection to the servers.
If this still doesn't allow you to connect via Splashtop, it may be that your internet connection is to blame. it generally doesn't require a super-fast connection. Certainly, 30-50 Mbps should be sufficient, but it might be the reason if you've taken the other measures and you still can't connect.