If you're using NinjaTrader 8, or any application that has multiple windows open, you may find it a struggle to keep all of the application windows in the foreground. This is especially challenging with NinjaTrader, since each chart is its own window. Here's how to bring ALL of the applications in a group to the foreground in Windows.
To make this work, you must have taskbar grouping turned on. That is, Window's Taskbar settings must be configured to group windows from the same application together under one taskbar icon. To enable this feature, bring up Control Panel, and search for Taskbar settings. From there, find the Combine taskbar buttons option and set it to Always, hide labels. You can also use the When taskbar is full choice, but if the application's windows aren't grouped when there's plenty of room in the taskbar, then you can't use this technique to bring them all forward at once. When they're not grouped, you'll need to click each window separately to bring them forward.
Once your application's windows are grouped under one taskbar icon, we can bring them all to the front with just two actions. First, we'll Minimize all the windows in the application, and then we'll Restore all the windows in the application. Here's how:
Use Shift+Right-Click on the group of windows you want to bring forward
From the popup menu, choose Minimize all windows. If it's not selectable, then all of the windows in that group are already minimized, and you can proceed to the next step.
Use Shift+Right-Click again on the same group of windows
From the popup menu, choose Restore all windows
All of your selected grouped application's windows should now be in the foreground.
Here are screen captures of the popup menus that display the first click, and then the second click to complete this procedure.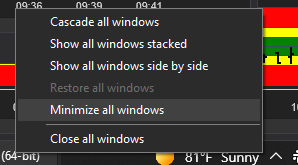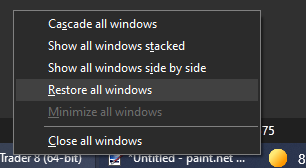 This can work with any application.
Another Approach: WIndow's Azure Virtual Desktops
If you're constantly struggling with keeping NT's windows in the foreground, consider using Windows' Virtual Desktops feature to keep a desktop just for NT's windows. Then you can switch between your Virtual Desktops and if nothing but NT windows are on that Virtual Desktop, all of its windows will always be in the foreground (though NT windows will still compete with other NT windows). You can easily select which Virtual Desktop you want to vew using the WIndowsKey+Tab.
Use of Virtual Desktops can be even more helpful when you have limited screen space, such as with a laptop.
Want to learn more about Virtual Desktops? Here's a link to a site that is unaffiliated with BCT, so use at your own risk: https://www.howtogeek.com/688174/how-to-quickly-switch-between-virtual-desktops-on-windows-10/