NinjaTrader uses zip files to provide indicators. Some users have experienced issues when trying to download these indicator files, or other zip files, when using Microsoft Edge.
If you use Microsoft Edge, you may see warnings when trying to download the indicator zip file. The warnings occur because zip files have traditionally been used to transmit malware, so Edge tries to protect you from any uncommonly-known zip files in case they contain malware.
For example, when trying to download the NT8 zip file, you may see this warning in the Downloads popup:
The warning asked you to make sure that you trust the source of the zip file. The source of this zip file is the Base Camp Trading website, and as long as you're downloading it from there, then it's safe to download. We would agree that it's not necessarily safe to download the indicator zip file from unknown sources, as that makes it more difficult to verify what's in that zip file.
To continue past this warning, you'll need to let Edge know that you want to download the file anyway. Hover your mouse of the message, and select the ellipses (3 dots) to the right of the message. That will provide additional options for handling this warning, as seen in the following image. Click on the Keep option to allow the download to complete. You'll then have the zip file on your computer, which can be used to complete the installation of the indicator.
Once you click Keep, you'll see another attempt by Edge to make sure you're aware of the potential risks. The following popup appears asking you to make sure you trust the source of the file. Since you're downloading this file from the Base Camp Trading website, it's a site you can trust, and you can continue with the download. Click on the Show more option to give you additional choices, and select the Keep anyway option. It will then make the file available for your use.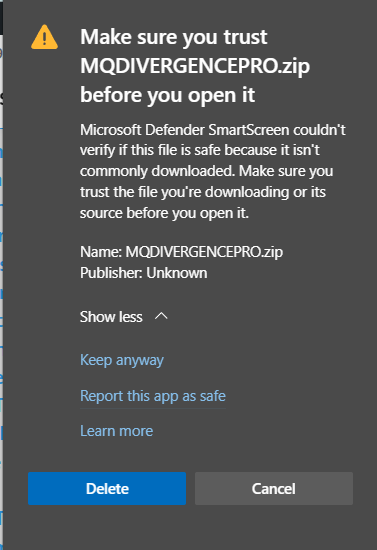 At this point, with the newly-downloaded zip file on your computer, your virus and malware software may have already scanned it to prove it's ok to use. You can double-check it yourself by right-clicking on the zip file to request that your antivirus and/or antimalware program scan the zip file if you'd like.
If installing in NinjaTrader, remember that NinjaTrader uses the zip file without unzipping it, so there's no need to expand the zip file. Just import it from within NinjaTrader 8 using Tools/Import NinjaScript Add-on, locate the saved .zip file, and follow the prompts.