If you find in the Spring of 2023 that your Chrome web browser has slowed to a crawl, you're not alone. We're not sure why, though there are at least one pair of settings that may be at least partially to blame, and you can try disabling one or both to see if performance improves.
But before changing these settings, verify that you've updated Chrome to the latest version (via Help/About), and that you've ruled out any faulty extensions you've added by disabling them. If you find an extension is slowing your system, remove and reinstall that extension if you want to continue using it. Clearing the cache and cookies can be helpful as well.
If after updating and verifying that extensions aren't slowing your browser, you can check the new settings to address any slowness. The two settings have to do with Chrome's extensive use of computer memory, and perhaps other resources. Chrome has two new "Saver" features: a Memory Saver and an Energy Saver. While these both sound like great ideas, it might need a little more polish to keep the changes from negatively impacting performance. Perhaps these are things that can be enabled with performance impact in the future, but we've found that these new features create some issues.
To adjust these settings, click on the three ellipses at the upper right of the Chrome window to open settings. In the setting search box, enter saver. You'll see the two saver features. The Memory Saver is more likely to be the cause than the Energy Saver one, but we can't be sure. Slide the switch for the setting you want to disable. In the following image, both settings have been disabled.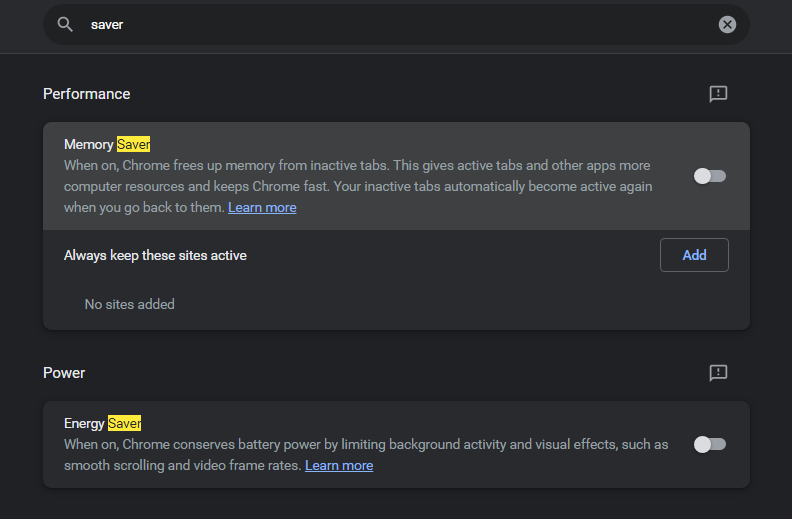 Since these sound like much-needed features, we're looking forward to future versions of the browser which can save on power and memory without a significant performance cut.
If you find that disabling these improve performance, let us know. We believe it does help, but there are other things that might need tweaking to get back 100% of the performance Chrome seemed to have even just a couple of months ago. And to keep Chrome updated, open the same settings menu at the right, and select the Help / About Google Chrome option. This will force Chrome to update to the latest version if it hasn't already. If you're still not seeing any improvement, see the additional things to check in this kb article.