Thinkorswim makes it easy to duplicate a window so you can have multiple movable windows that can be switched between or moved to different monitors. The TOS command to do this is DETACH, and you'll find it in the upper-most option menu (the three lines, sometimes called a hamburger menu), as shown circled in red in the following image.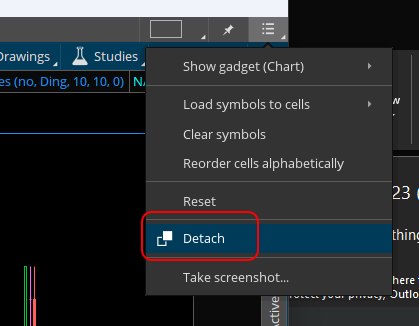 When you DETACH a window, it duplicates the current window into new standalone window that you can move separately. You can do this repeatedly to create multiple windows. For example, you may have a favorite chart. You can DETACH the chart to duplicate it, then move the new window to a different monitor. All of the windows along with their locations and sizes are stored as a WORKSPACE within Thinkorswim. You can have several named workspaces with all the sets of windows, and you can easily switch between them. Only one workspace can be opened at a time. Workspaces are managed via the Main window's Setup menu, as shown in the following image. You can see that a workspace called Workspace 1 has been saved. If you have multiple named workspaces, you would see them alongside Workspace 1, and selecting that name switches to that workspace. The Save and Delete workspace menus help you manage the workspaces.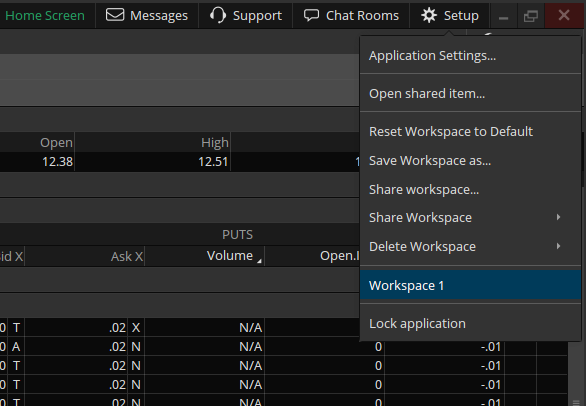 While you can only have one MAIN window in TOS, which has the primary menu that includes tabs for Monitor, Trade, Analyze, etc., any of those windows can be DETACHED. For example, you could bring up the Trade tab, then Detach it, and have the option chain in its own window. Typically, users will Detach from the Chart tab to create multiple charts. Of course, each window can have a grid of charts on its own.
When closing thinkorswim, try to get in the habit of closing the program from the Main window only. If you close a detached window, it will just close that window. But when you close the Main window, all windows will close. If you close a detached window first, it will just close that window and keep running. You can control how thinkorswim opens via the Main window's Setup menu under the Startup section., as shown in the following image. Via the Workspace used on startup: option you can choose a specific saved workspace that will open each time at startup, or have it reopen everything the way it was last closed.